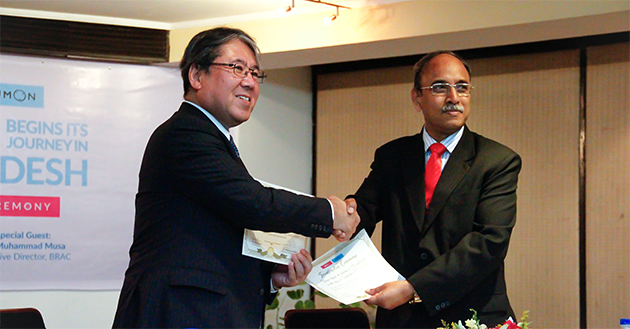 BRAC-Kumon has been formally launched at BRAC Centre on September 18, 2017.
Kumon is a comprehensive method of learning mathematics, which was developed by Japanese mathematics teacher Toru Kumon and formally introduced in his country in 1958. Originally named after its developer and initiator, Kumon method is now being introduced in Bangladesh as a BRAC-Kumon initiative.
The first BRAC-Kumon centre has begun their trial operations on September 19, 2017, in Dhanmondi (House 8, Road 14, behind Sobhanbag mosque) and the second centre is expected to open in Uttara in November.
Hidenori Ikegami, President of Kumon Institute of Education Co. Ltd., Japan, attended the launching ceremony as the chief guest, while Dr. Muhammad Musa, Executive Director of BRAC, was present as special guest.
During the event, Mr. Ikegami said, "Students cannot utilize their potentials owing to two main reasons: a lack of learning-friendly environment and a lack of proper learning method. The BRAC-Kumon partnership will be able to ensure both the needs."
Dr. Safiqul Islam, Director of BRAC Education Programme (BEP); Hitoishi Ara, Senior Representative of Japan International Cooperation (JICA); Diasuke Arai, Country Representative of Japan External Trade Organisation (JETRO); and Nehal Bin Hasan, Project in-Charge of BRAC-Kumon Team, also spoke at the event.
In 2014, BRAC ran the pre-pilot project on Kumon method for the first time. The method is currently being run in 50 countries.