BRACU observes International Mother Language Day
Publish Date:
Wednesday, February 22, 2017 - 14:15
On 21st February, 2017, BRAC University (BRACU) observed "অমর একুশে (Amar Ekushey)", remembering the martyrs of 1952 in a befitting manner.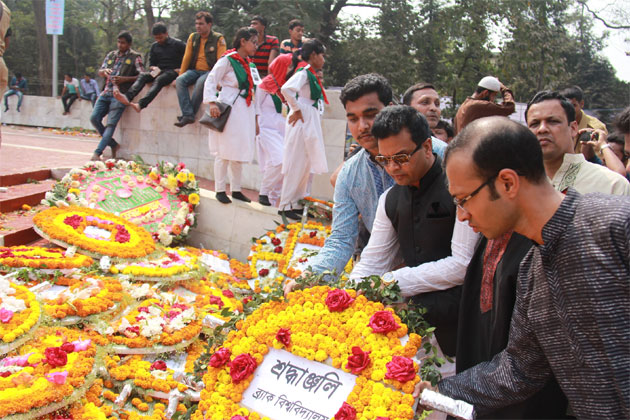 BRACU, represented by Jabed Rasel, Md. Akhterujjaman and SK Tareq Hossain, along with BRAC University Heritage Forum (BUHF) members, marched towards the Central Shaheed Minar at the capital to pay homage to the language heroes who laid down their lives on this day, 65 years ago.
Since it was also the International Mother Language Day, this year a singing performance of 'আমার ভাইয়ের রক্তে রাঙানো একুশে ফেব্রুয়ারি (Amar vai er rokte rangano Ekushe February)' by foreign students enhanced the celebration of International Mother Language Day at BRACU. The performances by the foreign students were a collaborative effort of Office of Co-curricular Activities, students from BRACU Cultural Club and BRACU Film Club.